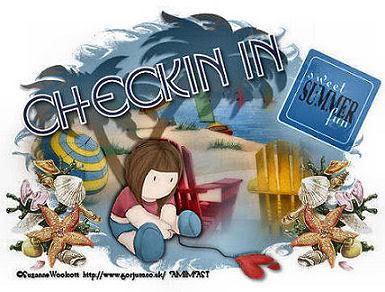 LOL...sort of funny, hunh? Me...checkin in. My last entry in my lonely little personal journal was Memorial Day? Yikes! Actually, that was my last day of smoking. I began my journey into the smokeless world the next day; and, yes, I am still smoke-free and pushing 8 weeks on Tues. The past couple of days have been filled with cravings but nothing that I can't deal with. The moods are starting to level a bit. (Thanks for the above tag, Lisa Jo!)
Where have I been? Sometimes in my graphics journal but definitely not much in my PSP. I do have a dozen or so tags to send that have been there for a week now. Ugh....I'm sharing my pc with Megan since she has no space to set up her computer or internet connection so my computer is being shared by the three of us. By the time it's my turn, I'm asleep on the couch.
My rotator cuff has been acting up horrendously for the past month. Of course, it's my right arm. It's really been limiting my computer time. My pc at work is set up to support my right arm. I'll have to work on this one at home. Anyway, I'm off on Monday to see my orthopedic specialist. It was work related but it's been six years since I've had problems. I got tired of dancing to the tune of the DOL so I called BC/BS. They ever so kindly removed the red flag on my shoulder since it's been so long since it was treated. I'm hoping for a couple of shots in the shoulder on Monday. That did the trick 6 years ago. I can pick my own doctors so I ended up with the best upper extremity specialist in Pgh somehow.
I took Joey to my group of orthopods for a second opinion on his knee. He got a new set of passive PT for a month. If that doesn't help, then he will get an MRI. He needs to find a new physical therapist because this one doesn't want to cooperate with the new script.
I had Megan at the ER last Sunday. She had a bug bite that resembled a deertick bite. It wasn't. The doctor hadinterned in dermatology and was "mum" on what he thought it was. Not serious but if it doesn't go away, a dermatolgist visit for her. Of course, I had an idea...it looks like a form of psoriasis. So, that's Dr. Chris' diagnosis but we have to add another doctor's visit.
Her job is going well. She looks like she walked right out of Vogue or some similar fashion magazine at the bus each morning which makes me look sort of "hoboesque" (a Joey description).
We've had monsoon rain all week; not that we didn't need it. Weird summer....some heat but not much. I sort of like the tropical summers. We didn't use the pool this past weekend but two weekends ago, we did. It was in the high 70's, and the solar cover is not warming the pool up much this year. I did manage to snap a couple of pictures and noticed it was July 8th when we were in the pool. Taking a picture of my son is a chore. Sneaky and quick, which takes a while.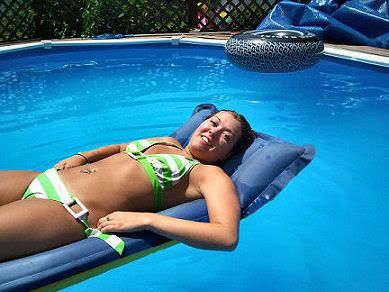 So, that's about it. I'm getting my hair cut this morning, thank heavens, and may get out tonight again. I have some tags to send out and many,many journals to catch up with. Love you all! (Anybody know why my entry has gone out of the margins? It's not the graphic size, and I've emptied my sidebar. grrrr SOS)