Soothing lavender to calm the crazy lady. Ok...I'll fess up...this was one of the easiest tags I ever made, and everybody seems to love it. Actually, Shelly, Roxymama, should get half the credit. She made the moon window background and sent it to the PSP group. All I did was slap the lavender tube on it with some sparkles and voila....a tag.
Things are pretty quiet...shhhh...don't say anything.
We went to the 16th floor to see our new office space. I don't think Rose and I are going to get our own offices. Not that the boss doesn't want us to but it seems to be creating a commotion among other divisions, I believe. But it looks like a huge, beautiful floor. Way more space than I ever worked in. LOL...I think we're going to be lost. I mean, cmon, we work for the govt. and are used to be stacked up on top of each other. Where Rose and I end up, it's hard to tell but anywhere on that floor is really pretty. The move isn't until the middle of October.
LOL...Chelle, the Bag Lady, made this for me. HUGS, Chelle! Only problem is today I have nothing to whine about...imagine that. But I had to post my new Whine Zone tag which will signal a rant, rave or serious whining is about to begin.
Ok...I'll whine because I want a new camera. Darned if I know what I want. I've gotten so many suggestions. I hate those circles that show up on my pictures. Last night I was supposed to be online scouting out lawnmowers...yeah right. I was online scouting out digital cameras. Becky made some suggestions. Being the artist and photographer she is, none were under $300 and probably way beyond my technological ability, which is sorely lacking. I need something super easy to use.
I'll pawn my old one off on Megan. I know she wants one; just not mine. But oh well...see I have no sense. I need a lawnmower and so many other things but I want a camera. My BF, anal person he is, lost the receipt for my camera I have now. I can't believe it. He is so organized. He sees how some of my pictures come out so he looked for the receipt and swears I have it. No way...he keeps all my receipts. If he could just find the darned thing, I could take it back to Wally World. It has a one year complete warranty on it and can be exchanged there. I think he threw it away when he moved in the spring along with my vacuum receipt.
That's my whine for tonight. One more day and a long weekend. Joey isn't leaving for camping until Monday and is going for the whole week. I might end up cooking on Sunday or maybe not.
Good night everyone. Off I go to 1. look for my keys so I'm not scrambling around tomorrow morning; 2. get my clothes together; and 3. bath or shower? I think I'll slip into my Calgon mode again.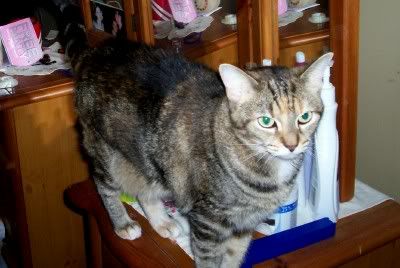 Mocha, Megan's kitty, says Good night. She's on Megan/my vanity. I think she really resembles Jeannette's Nina.
CHRIS