An anniversary is brewing and J-Land is jumping. Of course, it took me a couple of days and reading more than a few journals to figure this out. Donna has some lovely tags to celebrate J-Land's third year and links to the festivities. This and that, and hockey! Thanks, D, for the lovely tags! I've only been journaling since Oct. 2005. What in the world did I do before I entered the world of J-Land?
Life is relatively quiet around here...shhh...probably not for long. I was asked what OCD stands for....not funny but it stands for Obsessive Compulsive Disorder. I do think that I have a very mild form of it. Seriously, not to make light of those that suffer tremendously.
My problem is that once something goes wrong, I am on "patrol" continuously. I'm not so bad with the AC now, for the timebeing because so many other things are making noises, leaking, etc. Anything with a guage drives me totally nuts because I can see the problems creeping up before my eyes.
Plumbing problems...lol...my handy dandy plumber, Randy explains this to me. I have extremely strong water pressure. I live 1/4 mile from the pumping station (as the bird flies, so says Randy). Water must be pumped to a 10 mile radius in my township. So, I need a water pressure regulator to keep my pipes from bursting continuously so that others can take their showers with water flowing five miles from me. The problem is my new pressure regulator doesn't have a guage. It's self-adjusting, so says Randy. Well, this big old bolt is ready to pop. When it does, my basement will flood, if I'm not home to shut off the water, which according to Murphy's Law, I won't be. Not that my basement couldn't use a good dose of clean water. My pipes bang if the pressure is too high. My hot water tank sounds like it's going to explode. My BF puts a new pressure valve in my hot water tank every couple of years. Grrrr.....that tank freaks me out. I have to release pressure every month or so and can see myself going through the roof with it.
LOL...no kidding....I have a pipe right now leaking slowly under the bathtub into the livingroom ceiling, a pipe to the basement shower is blowing...all signs that the pressure is way too high again.
Did you know just how many plungers they make? ROFL...I have at least 4 different plungers...a toilet one with a narrow neck, a tiny one that sucks the hair out of the bathtub that Megan uses, this super duper big one that looks like a waffle. Besides pipes breaking, I drano and plunge all the time.
Most of the time, these little problems are noticed and occur at 5:56 am when I'm ready to run out the door to catch the bus. Why that is, I can't explain but then I have to call home and drive the kids nuts also.
As you all can tell, I'm the happiest of homeowners. I can't wait to sit back, sell the house and rent something so the landlord can deal with all of this. That would cure my OCD really quickly.
The sound on my new TV is fading in and out. My BF says his is also. So, I call the cable company and, of course, they say no one else has complained.
Now, while others in my life say I fuss about nothing, I've learned that most times I'm just very observant and notice when things aren't as they should be. So, who knows......
A little bit of cleaning today and sunny and in the low 80's...sounds like pool time again. Speaking of the pool, the pump is acting up again. Now, as my BF says, if it didn't have a guage on it, I wouldn't even know it.
Tomorrow is Terri's birthday.....You think you know, but you have no idea... Stop by and wish her a happy one. She might not be around coz she has a life this summer. Have a great one, Terri!
Stay cool and have a great weekend.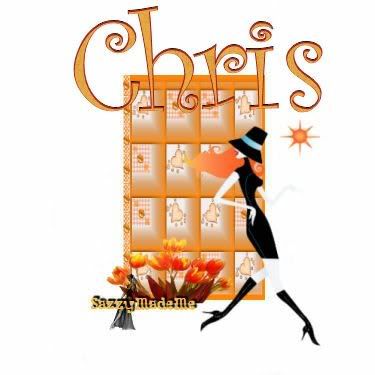 Thanks to Dianna for this too cute little siggy.............