Two entries in one day...how lucky can you get...hehehe. I had to post my red carpet outfit. I don't want someone else putting the same dress up. Now, ya'll, I got this one first. Of course, it's Vera Wang. No other for me. Picked it up for a bargain....$3,295 because it's ready to wear. Hmm....Aug. 20 is a week away. I'll fast and look like the model. I might need some extensions for my hair. I haven't researched my hair style yet but do plan to visit Sugar's Salon for a touch up.
And of, course I'm going for the leopard accessories. A little satin Fendi clutch for a mere $295 and Jimmy Choo pumps for a bargain $575. Haven't picked out the bling bling yet. I'm saving my budget for some flashy bling.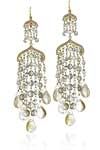 Although I might go with these...can't remember whose they are but I'm going simple on the jewelry.
Ok, girls, let's see your Red Carpet outfits. LOL..no stealing someone else's. You know the dreaded showing up in the same dress....
Go see what Kathy is wearing....Time to feel like a princess!!!! Sugar has her outfit posted also.. A LITTLE BIT OF SUGAR, PLEASE.....
To be continued.......................