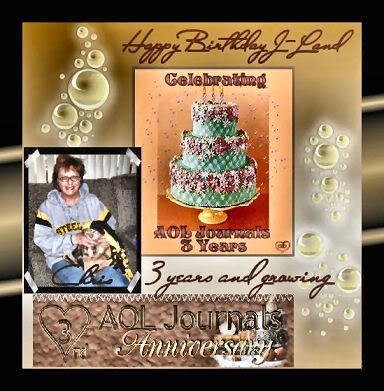 Where do I begin? I'm never usually at a loss for words but this one is escaping me a bit.
I started my journal on Oct 5, 2005. Why? I have no idea. I had heard of blogs and clicked on the journal community and thought I would give it a shot. My intentions were to write some witty entries about the perils of raising three children (nearly grown now) as a single mom. That's how I began. I wasn't concernd about readers. Just sort of a history to keep for my own use.
I needed some assistance and found a message board for journals. It was a want ads type of thing to promote your own journal. I started clicking and reading a few. I actually got a couple of comments. I liked that. I then began clicking on the links in other favorite journals and lurked for a while just reading. I wasn't sure if there was some sort of etiquette about commenting or not...lol
I soon noticed how pretty the journals were decorated and wanted to make mine pretty. It took me about two weeks and much tutoring to figure it out. Readers were being added. LOL...I liked that even more. My next observation was that some graphics were far prettier than others. Surprise, many made their own. My interest was stirred. I wanted to make my own. Thanks to dear, Shelly, RoxyMama, who sent me PSP 7 and patiently tutored me, I was on my way.
J-Land is far more than just a blog site. It is a community that is unique, in my opinion, to the web. My journal has changed courses a few times. Many times, it is a refuge for me to post things that I probably wouldn't relate to most of my friends.
It has also become a huge, addictive hobby to me...making tags in PSP, which, in itself, is also a refuge at times when the waters are rough in my life.
I value most the friendships I have developed over the course of10+ months I've been a part of this community. I look forward to many more. As with anything, there is the good and the bad. I focus on the good. J-Land is only what you make it to be for yourself.
HAPPY 3RD BIRTHDAY AOL JOURNALS....thanks for many wonderful memories!
Thanks to Viv and her hardworking team of talent who made all the events for this celebration possible.
Thanks to Krissy and John also....may all our prayers be answered for the two of you.
Thanks to D and Julie for the wonderful tag!