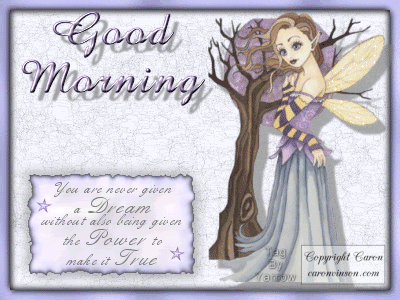 Rarely, anymore do I get to say good morning to everyone. I believe Lisa Jo sent me this one.
It's been a crazy last half week for me but I'm liking Jackie's HOPE FLOATS style of opening with the good and then a little whining. Although she "whines" with such style and class.
My good this week....my 25 year old daughter, Becky...Lord, that child has gone full circle. She sent me pictures from her photo portfolio...lol...not a good thing because once I get ahold of them and butcher them in my Paint Shop, they aren't nearly the same. Monday, Becky starts grad school at the University of Pittsburgh. OK...I'm braggin again, big time. For those who don't know, Becky graduated from college with a bio/chem degree and worked in genetics research for three years at Pitt. She was accepted into the stipend Ph.d. program there this past spring majoring in microbiology. She is also a gifted artist/photographer. Becky grew up in the house of hell with a verbally abusive, alcoholic father which damaged her soul far more than I realized.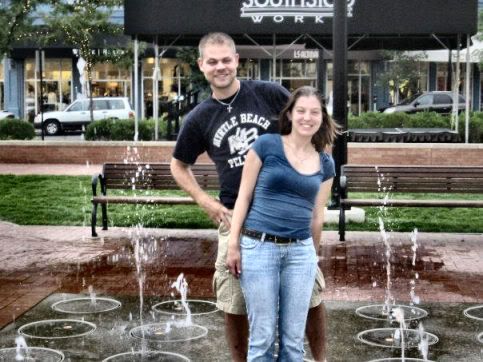 This is my first baby. Awful picture, out of focus but she actually has a smile on her face, and she is getting wet. Becky never liked to be wet or dirty so I'm amazed that she has become carefree enough to stand in a fountain. The guy she is with, Ray, is her future husband (she just doesn't realize it yet). He adores her and brought her back to her religion.
Becky had the past two weeks off as a paid vacation before her studies start. She got a tattoo on her wrist. Ok...now, I had to question that but she can cover it with a watch. She said it's really no big deal in the world of science. She does silk screening and designed the cross she had tattooed.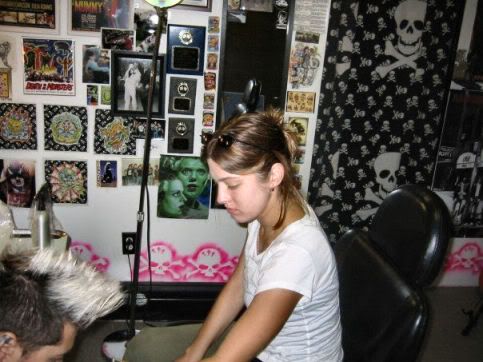 This is a Christian tattoo parlor sponsored by the church she goes to to provide a safe, certified place to get tattoos done. There is a Bible study held upstairs a couple of nights a week. She actually went to Bible study with Ray and then had her tattoo done.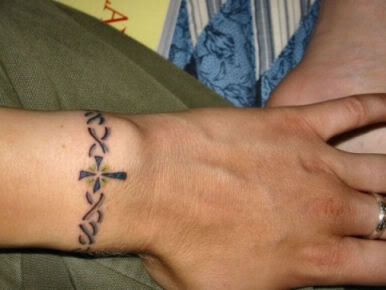 She has to go back and get a touch-up done on the one side of the cross. I'm still not sure what I think of a tattoo on the wrist but she's a big girl now.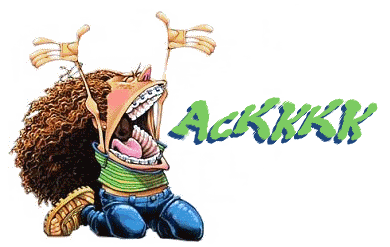 Warning: You are about to enter the Whine Zone.......
I'm loving my new job; just not the five day week. It's taken far longer for me to adjust than I thought it would. Wednesdays are a bit melonchaly because I keep thinking of it as my day off. I was a little blue Wednesday morning to begin with. I had to go upstairs to my old area to retrieve a lost folder. No biggie, except something looked odd in my cubicle. Then it dawned on me that the coffeepot I was storing there because I had no room downstairs was MIA. I asked the one guy about it. He said "they" threw it away last week, then quickly tried to clean his statement up when he saw the look on my face. I had just bought it before I got the new job. I paid $32 for it which is not a big deal but yet it is. I was furious at first. Luckily, no one touched the two boxes I had stored under my desk with my personal things in it. So...I got a cart and promptly removed everything I didn't want tossed. I whined a bit about it and then thought that someone must have been angered that I was gone and did it out of spite...childish but so be it.
I then got a phone call from Joey telling me that my car is losing its tranny fluid. I flipped a bit because I can't even begin to think of adding a car payment right now. I'm sort of hoping the Lord will just drop a new car out of the sky into my driveway. LOL...now I'm rethinking my previous idea of torching the darned car when the gas tank was leaking.
Next, I applied for a school loan for Megan's university. Her school is so out of this world expensive. Every year I've had to co-sign additional loans for her. Now, if that child, will only focus on school instead of the education of partying, I would be a happy camper. When I got home, I went online, and the loan was declined. I dissolved into a total puddle of tears. I called the 800 number but couldn't get any answers because they hadn't received the processed application yet. They said it had to be my credit rating. I ran a credit check on myself. I was in the outstanding range (Lord only knows why but I do keep my credit accounts current always.) I figured my income was just too low to support the amount of loans I have applied for with her. Finally, after a number of 800 calls and transfers to different depts. I got the answer. I had transposed Megan's SS#.
I reapplied; got an e-mail back that it was accepted. Thank the Lord! Now, if Megan will only take school seriously and please, Lord, let that child budget the money this year. She is going to learn the hard way. Mommy is applying tough love. I've removed my name from her checking account.
Next problem was my own creation. My car registration was due in March. I had the car inspected in February and totally forgot the registration. How Megan and Joey drove that car for five months with an expired tag and never got stopped I'll never know. An angel sitting on my shoulder for this one because it's a $400 fine. I went to good old AAA yesterday and renewed it. They are online with PennDot. Pa.'s DMV is crazy...it's split up between licenses and registrations. If you want an instant renewal on tags, AAA is the only place than can do it.
This past summer has been aggravating but I'm thankful it's only aggravations and not life shattering traumas that others have been suffering from here in J-Land.
I'm not the only one who can't sleep at night with financial problems. I'm thankful that I got a promotion. I need to bepatient to reap the benefits of this promotion, which will take a year or two.
I'm thankful that my ugly marriage produced three awesome children, even though, at times, their problems also keep me up at night.
I'm thankful that the Lord is watching over me and won't let me sink; most definitely thankful for that.
I want to wish Deb Frosty Thoughts a very HAPPY BIRTHDAY today!!!!! Stop by Deb's or send her snail mail and wish her a good one. Deb, you're a sweetie!!
Longwinded today, I must say....Have a blessed day and weekend!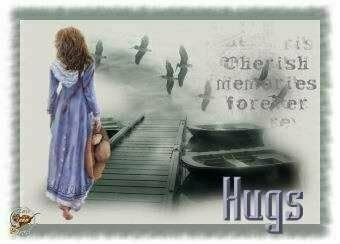 Chris