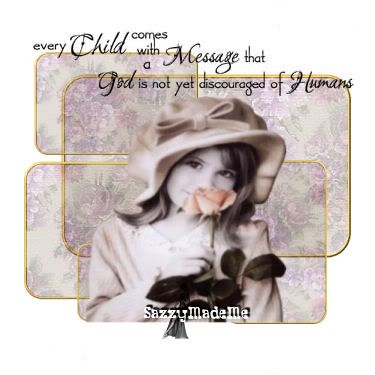 Thanks to Dianna for making this tag for snag. I went to church with Becky today again. She has gone every week for the past month or so. The hospital for sinners; not a sanctuary of saints is how one of my previous pastors referred to church. We fail miserably everyday; some more than others. Enough of my reflections. I feel some changes coming on. Don't know what and am a little afraid to think about it.
I wanted to let those of you who read Penny's journal Penny`s Place that she was in a car accident on the way home from church today. Her car is probably totaled but she was not badly injured. I believe her daughter was with her. Keep Penny in your prayers. If we don't see her around J-Land for a while, she is resting and recuperating.
The celebration stuff is continuing. There is a cyber chat party scheduled for next Sunday evening.
Clicky on Kathy's link and go cyber shopping for the perfect outfit to wear. Time to feel like a princess!!!!
The official 3 year Anniversary site is up and running. Check it out...really pretty. Lots of time and energy went into its creation. Thanks Viv. 3rd Anniversary - AOL Journals1
Sugar has her pet memorial journal up and running...make sure to go and visit. CELEBRATING 3 YRS OF J-LAND with OUR BELOVED PETS
Krissy has an activity she would like for everyone to join in for! Go to her journal to check it out. Announcing a J-Land Activity: My Past Year in J-Land She would love for everyone to post their entries on August 21st. So go read what it is all about!!!
And don't forget to add your entries to Shelly's quilt and send a picture to Stevie for the video. His deadline is tomorrow. I believe Shelly's is Friday.
Love/hate AOL or somewhere in between...J-Land is about us. We are J-Land and can choose to make it as much as we want it to be.
Have a great week to come. I'm slowly catching up on journal reading.
Chris