Not being a huge fan of "Hallmark" holidays, nonetheless, today is Mother's Day in the US. I feel blessed to have my three children. I also feel blessed that my mother is still on this earth.
My poor mother is cooking once again today. I feel bad for that. She still loves to cook; just not on a large scale. A couple of years ago, my three children and I just showed up in the afternoon on Mother's Day. It sort of knocked my mother's world out of sync because she hadn't prepared anything.....that was my purpose in arriving unannounced.
I'm sort of at a loss for words (imagine that). My mom's car accident has really taken a toll emotionally on her. She tried to drive again but is terrified which is probably best anyway. She is giving Joey her Sunfire which is practically new. In exchange, he is driving his grandma to all her appointments, the store, etc. after he's done working. I was stunned, as I had no idea this was happening. Joey and my mother have a special relationship so this is working out for all.
I think what is really getting to me today is realizing just how fragile my mother is becoming. Somehow, I thought she would outlive us all. Now, reality is hitting me hard and sort of scaring me. I'm crawling into my "little" Chrissy skin which I'm not fond of.
Take the time today and everyday to tell your mothers' and all loved ones, for that matter, that you love them....
BIG HUGS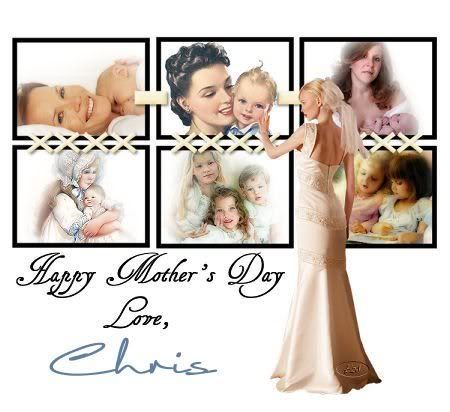 Thanks to Emmi for the above tag! Love it! Sweet & Simple Pleasures