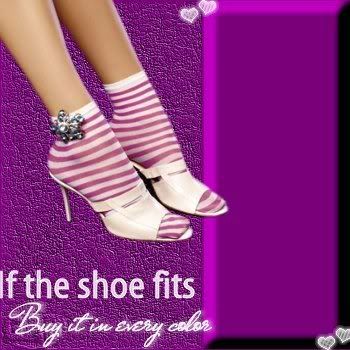 First thing, my pumps with the pointy toes that my personal shopper picked absolutely killed my feet. My right foot is a size larger than the left. The left shoe kept falling off. I bought some insoles at lunch but they didn't fit right. Back to the comfortable pumps for me. And panty hose...grrrr...I haven't tortured myself with panty hose for at least 2 years.
I didn't have to attend the training session today. I'm so glad. We have to go Wed and Thurs because that pertains to the programs we use. I shadowed my trainer again today because, of course, no one had moved my PC yet. Tomorrow they are but I know it will take half the day to get it done. But Rose and I do get along super well so that's a plus. She's a sweet girl.
I think I'm going to like it. There is so much to do and so much to learn. It's a whole different division but the case management system is pretty similar to my old one. The flow of things is blowing my mind, though, as it always does with something new.
I had to run upstairs a couple of times for things. My previous supervisor actually asked me if I would do the Monday report. I about croaked as I said "NO WAY." I don't work up here anymore. Then she asked me if I would work OT Saturday to train the new kid. Don't think so. I told her they had many chances to keep me in that division and didn't. My new division has OT but I will need my weekends off.
It was soooo weird taking the bus home at 4 today instead of 5:30. The day did go quickly. It seemed like it was lunch time and then almost time to leave. I'm still grieving my loss of my day off on Wednesday. That will take a while to adjust to. I have to reconfigure doctor's appts. and, of course, Wednesday was my mid week grocery day. I may have to enlist Megan to be my grocery shopper that day. Haven't quite figured it out because I sure don't feel like stopping after work to buy a big order.
And the sun actually came out today....the first time since Thursday.
I did wear the linen suit. I ironed it and used spray starch. It didn't really wrinkle too badly until the very end of the day and it wasn't awful.
What to wear tomorrow...hmmm...I'm thinking peasant with some comfortable shoes. I do need some new shoes. I picked up a cute pair of flat last night at Target for $5 on clearance. Couldn't pass them up.
Wow, 8:00 already. There still doesn't seem to be much time left in the evenings. Have to go feed my pooch. He's been very patient and try to get a load of laundry done.
Nite...Part II cont.....