LOL...before you rush out at the last minute to get me a birthday gift, today is not my birthday; tomorrow is. I'll finally catch up in age with someone else in JLand (you know who you are..hehe).
Now, if this entry doesn't save this time, I'm done. AOL has been a total nightmare for me since Sunday. I can't send mail, can't make comments in journals, lose my connection continuously...on and on.
I bought myself a car....whoo hoo. Not the car of my dreams but a car less than 3 yrs old with less than 20,000 miles on it and a bumper to bumper warranty until 80,000 miles. I'm like a pig in doo-doo. Doesn't take much to please me.
I've been surfing the web at work on breaks looking for a Hundyai but the more I looked at them, the less I really wanted one. The thing that was bothering me was the engine size and the terrain of western Pa. The moutains around here kill cars with undersized engines. I couldn't find any standards which is what I would need to compensate for the terrain.
Anyway, my BF's tranny went on Sunday in his truck with 60,000 miles on it. It will be gone for at least a week to be fixed. I "generously" offered to loan him his Gran Prix that I have had for the past four years.
I clicked on the link for the mom and pop Pontiac dealership in my neighborhood and saw a Grand Am with less than 20,000 miles on it. Out of curiosity, I clicked on it and did a double take at the price. Too low to pass up. I called my BF and sent him on an errand. He happened to have bought my/his Grand Prix from this same dealership. They know him coz he smoozes with everyone. I got a $1,500 trade in on my Oldsmobile but they didn't want it. They said keep it, and they'd just take the $1,500 more off. I got it for way below Blue Book value....yay.
It's got some cute stripes on it and is fully loaded...no leather interior but I can live without it.
I'm trying to hit as many journals as I can but half the time, I can't leave comments. Keeping my fingers crossed that this will save.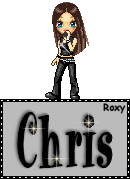 Thanks, Shelly for the cute blinkie siggy tags! You rock!!!!