Happy Thanksgiving! (Thanks, Shelly, for the tag above.) Today I am reflecting on all the things I am thankful for and the many blessings in my life. The biggest blessing is threefold....that would be Becky, Joey and Megan; my children. There isn't a moment that goes by that I do not thank the Lord for blessing me with three of the most beautiful, smartest, kindest children in the world.
I am also thankful for my father, even though he is no longer with us. My father bestowed unconditional love upon me and also my children. All little girls should have a daddy like mine. He loved and respected my mom; while "spoiling" the daylights out of me. Because of my father, I am basically a loving, trusting person; content with my imperfections. My dad thought I was the most beautiful person to walk the earth and told me so all the time.
I am so thankful that my mother and I have reached a common plateau with each other. For many years, it was my mother and brother vs. my father and me. My mother and I have nothing in common. We are as different as night and day. My mom tried her best to turn me into a mini-me of herself. It didn't happen. She was bitter for a long time. She was hospitalized a few years ago with the MRSA infection. The tide turned more so in my direction. We have both become more mellow. My mother is 88 years old. I no longer feel the need to disagree with her opinions constantly. Without my mom, I would be homeless; seriously. My mother cannot display her feelings. I know that she adores the ground Joey walks on . I now know that she is constantly praising my girls. I have heard from others that she praises my family quite frequently. We are her life; even though she can't express it directly.
I am also thankful for my BF. I got it right this time. He is so much like my father as opposed to my ex, who couldn't be more different than my father. He also thinks I'm the most beautiful female to walk this earth. (LOL..he needs glasses.)
Now, I am thankful for my flimsy, dingy shower in the basement from hell. I have a plumbing nightmare on my hands. Yes, my plumber's name is Randy. I call him handy, dandy, Randy because he is "retired" but is busier now than ever. He can't turn anyone down who needs help. My drain is not only clogged but is leaking under the bathroom floor along with God only knows how many other pipes. He was here off and on for two days and left. He will be back. He told my son I'm going to have a heart attack when I hear what has to be done. I already know he has to cut through the ceiling, which leads me to another area. I am thankful that my homeowner's insurance will pay for the repairs from the water damage. I pay Randy for the plumbing. Insurance will pick up the amount to repair the ceiling, etc. which is going to be quite extensive. So, back to the shower....thankfully, we are able to stay clean while the repairs are being done. A bottle of Tilex goes a long way. Megan and I never use it. I'm surprised my son isn't diseased because the only time I go to the basement is to do laundry.
My bird is in the oven. I am "accomodating" Megan's gluten-free diet. I will take her Butterball (the only frozen turkey she can eat) with the stuffing made from the gluten-free bread (grrr...$4.50 for half a loaf so I needed two) to my brother's. Ok, I am thankful that I will get to spend the afternoon with all three of my children and my mother.
And...since I tend to ramble on....lastly, I am thankful that the house is slowly getting cleaned thoroughly once again and looks like it.
I wish all of you continued blessings! I am more than thankful for JLand; my home away from home and my escape from daily stress. You are all the best!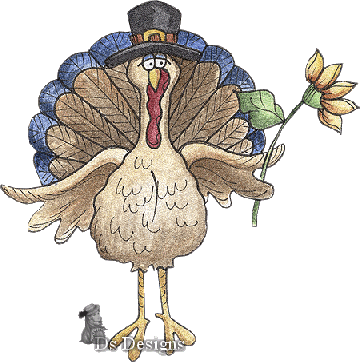 Thanks, Donna,This and that, andhockey! for this adorable turkey!