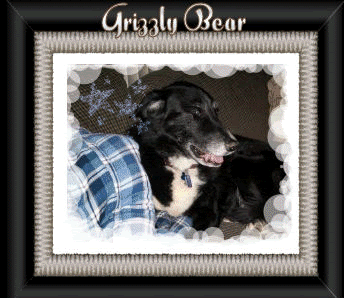 With all the drama last week, I forgot, well didn't forget, but didn't mention that my special puppy had a birthday on March 6th. Happy Birthday late to my Grizzly! He turned 10, even though I keep making him one year older...lol...sorry Griz.
I'm happy to report that Grizzly is doing exceptionally well on the Rimadyl. Now, if his blood work is ok and it's not affecting his liver, we are home free. He isn't quite running and jumping as well as a pup but darned near.
My BF was over the other night to fix our ventless heater in the familyroom. It was dusty and had gone out. That was the night we had 6 inches of snow and it was soooo cold. Grizzly always escapes when my BF goes out the door. I made my BF go get him because it was frigid. I heard (#$)*@)&($# coming out of my BF's mouth, as he was trying to keep up with my pooch, muttering that he thought I had said the dog was crippled. We were howling because Grizzly could not have done that a couple of weeks ago.
Things are much better around here. I'm not in the mood to rehash today. Joey and I are off to eat at our favorite Mexican place and grocery shop....ugh.
BIG HUGS....CHRIS