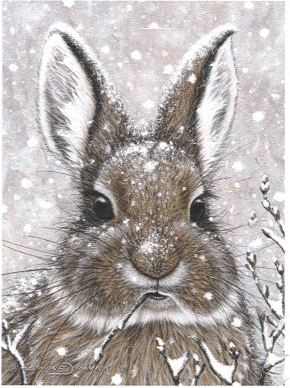 Is it really April 6th today? I got up and looked out the window to see two inches of snow on my car and still falling. Of course, my snow tires are packed away so the ride down my hill should be more than interesting this morning.
I'm not sure where I got that bunny from. I must have snagged it quite a while ago. I found it hidden away in my external drive while searching through folders and files.
My computer is still horrendous but I've decided that in the scheme of things to worry about, this is low on the list. I've been reading and trying to catch up with journals again. Trying to put tags together is just too frustrating when I can't quickly scan my folders and files. Anyway, a computer can be fixed. I'm a packrat with my pc and live in fear of not having the things I need when I restore or have this thing restored. But, it's only files and "things." I've put it in the proper perspective after reading so many entries of people in JLand who are battling cancer, have relatives battling cancer, have chronic pain and illnesses...etc. All my woes right now are replaceable. My pictures are intact in my external back up drive. So are the programs I use. Funny thing that I do. I never empty the memory card on my camera. I just remove and buy a new one. I'm also considering backing my external drive up on discs. Becky tells me this will take days, and I best get a cabinet or storage unit because I will need hundreds of cd's. LOL...I was in my back up drive removing things I'll never use that I didn't remember I even had.
I suspect a virus although I've run several different scans, including my McAfee which is totally up to date, and nothing comes up. I'm finding even in the past year, customer service stinks all around. Even an extended warranty doesn't seem to make a difference. This squeaky wheel will get some oil. I just haven't had the energy to argue with the reps at E-Machines again. LOL...I'm sounding like my mother these days. She would argue and insist that companies back their products; still does.
Work was totally off the wall on Wednesday. I was drained when I got home. That was the first day in my new division that was like that. I was jinxed when the first counselor came and asked me if I ever had a day that started out crazy right off the bat. Of course, my day was smooth at that point in time. I said "not really." I should have kept my mouth shut because it turned into a "full moon" type of day.
So, I'm off to get ready to dig my car out. Is it really Easter this weekend? It was 60 degrees here on Christmas. Odd, to say the least.
Hugs and Blessings, Chris