Karen Lynn Seymour-Dietrich, age 40, Wall Street Technology Specialist, ETC Division, Garban Intercapital, World Trade Center, New York City.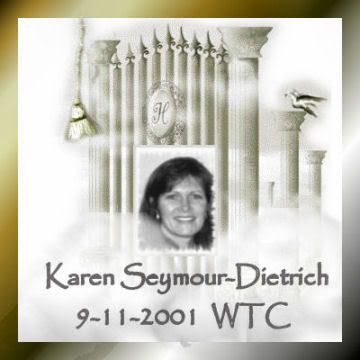 How in the world does one capture the essence of a person they never knew? From all the reading I've done, it appears that Karen Seymour-Dietrich was a woman most would consider to have it all together; young, beautiful, energetic, intelligent, a loving wife and mother. She was an award winning member of a profesionnal cycling team and continued cycling after her retirement from competition. She met her future husband, William Dietrich, a bicycle racer, while pedaling in Millington, N.J. and passionately entered the competitve circle.
Ms. Seymour earned her bachelor's degree in business information systems at the University of Baltimore in 1981, and completed a master's in business administration in finance at Fairleigh Dickinson University in 1992. Her career included work in the design and management of trading-floor systems at Salomon Brothers and Deutsche Bank.
She developed a passion for the culinary arts and cooking. She attended the French Culinary Institute in New York, graduating first in her class. She went on to work at La Grenouille in New York and the Stage House Inn in Scotch Plains. A culinary career, however, was shelved with the birth of the twins, William and Sarah, in 1997.
On September 11, 2001, she was working for the ETC division of Garban Intercapital in the World Trade Center as a Wall Street technology specialist on the 25th floor. She would soon become a victim of the worst act of terrorism to hit our world. That day she was attending a financial technology seminar which placed her on the 106th floor of the World Trade Center. That day, she, along with 2,995 others would become statistics. Behind those numbers are faces, families and loved ones deprived and robbed of the existence of their family members. Dreams shattered and torn from them.
Karen's husband, William Dietrich, made a huge decision to keep his wife's memory alive. He founded The Karen L. Seymour Fund at Liberty Science Center in Jersey City. Quoting William Dietrich "This will encourage greater global harmony by educating children and families of all backgrounds in the peaceful use of science and technology in the hope that future generations will be spared the pain and horror of this tragedy." His wish is that his children or no other children ever have to experience or witness the violence which occurred on September 11, 2001.
Besides her husband and children, Karen Seymour-Dietrich is survived by her parents, David Seymour and Catherine Seymour; a brother, Glen; and a sister, Debra. I would like to extend my heartfelt prayers and sympathy to the Dietrich and Seymour families who still must carry a huge hole in their hearts at the loss of such a lovely, vibrant lady.
I felt a huge honor in taking part in this project. I would like all the families to know that we have not forgotten this day or the horrific events which stole your loved ones and shattered a nation; if not the world.
Remembering 9/11
Author: Unknown
As the soot and dirt and ash rained down,
We became one color.
As we carried each other down the stairs of the burning building,
We became one class.
As we lit candles of waiting and hoping,
We became one generation.
As the firefighters and police officers fought their way into the inferno,
We became one gender.
As we fell to our knees in prayer for strength,
We became one faith.
As we whispered or shouted words of encouragement,
We spoke one language.
As we gave our blood in lines a mile long,
We became one body.
As we mourned together the great loss,
We became one family.
As we cried tears of grief and loss,
We became one soul.
As we retell with pride the sacrifice of heroes,
We become one people.
Dedicated to the life and memory of Karen Lynn Seymour-Dietrich
            
Karen, may your light shine forever.........