Thanks to Shelly for the tag. I can't describe my mood; mysterious even to me.
We've had some beautiful 75 degree days since Saturday until the chilly rain blew through today. The car problems continue to mount. Indecisions as to what to do because right now there is nothing left for the tiniest car payment. I'm on a wing and prayer at this point in time.
My biggest concern has been Megan's kitty, Mocha. She suffers from hairballs frequently but on Saturday started a dry hack that lasted for minutes and minutes on end. It sounds like a normal hairball "choke" but then progressed to an awful hacking sound. She has continued doing this off and on without actually letting out the dreaded hairball.
I called the vet today and came home after half a day to take her. All appears very good from initial tests. Of course, the full work up of blood and urine was done. And....$177.00 later out the door I walk. I will know tomorrow if the labwork is fine. Then it's x-rays. Grizzly needs a liver profile done over the Columbus Day weekend because of the phenobarb he takes for seizures so I'm reeling over here because he will also have to be sedated to get his claws trimmed plus his regular shots and Heartgard. I'm thankful right now I only have two pets.
Mocha got in the house and went and hid. Now I'm worried because I can't find her. I gave Becky back the extra kitty carrier so Mocha had a velcro leash thing still attached to her when she scooted. I've checked all her hiding places. I'm worried that she's caught on something with that darned leash. Joey and I have searched high and low for her.
I'm definitely taking the day after Columbus Day off and half a day next Friday. I have vacation time building each pay period so I'm going to take advantage of it.
LOL...so what do I do when I'm frustrated and worried...throw myself into the Paint Shop and try new things. Talk about frustrating myself even further.
I fell asleep during the last half hour of Dancing with the Stars so tried to catch up on what I missed last night. I then watched Terry Irwin, Steve Irwin's wife, and her interview with Barbara Walters. Wow, what a tear jerker that was.
I'm off to the basement to search for Mocha. Almost an impossibility to find her down there normally.
I'm working my way around the journals again. I never seem to stay caught up but hooray...the weekend is coming and my gypsy daughter, Becky, is moving again on Saturday. I think she has enough help because my shoulder is bothering me and my one hip is acting up. Oh the joys of aging...lol
Have a good one all!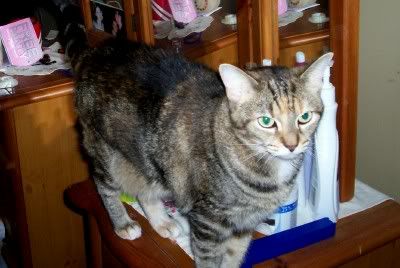 My poor traumatized kitty....she was not a happy camper.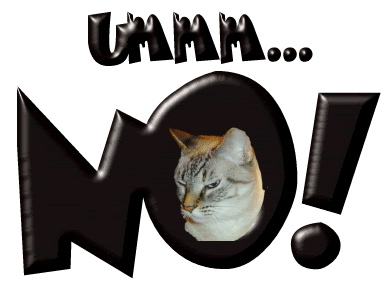 CHRIS