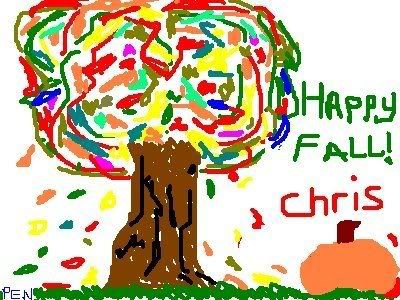 LOL...I had so much time on my hands yesterday and actually got to visit journals. I was just flipping through my list and hit Penny's journal Penny`s Pieces of Ohio. Lo and behold, I see this darling little creation. Of course, I don't notice the little Penny in the corner and curious me....I just have to know where it came from. It seems my Penny has been hiding a talent from all of us. She actually created this freehand in some paint program which is on her computer. Now, isn't this just the cutest thing???
Of course, me being the shy one I am (not), I had to ask her if she had a blank one because I just had to have one. Penny was so sweet and actually made me one even though she didn't save a blank. (Penny, ya better start saving blanks because I see a new budding artist in the making and lots of requests.)
As you can tell, it really doesn't take a whole lot to get me totally excited. The best is yet to come....Penny made me another one. I'm loving it. Way to go, Penny. Get that copyright really quickly.
So, without further adieu...presenting Penny's second creation below....BIG HUGS to Penny!