Shizammmm....I actually have the time to do an entry; a normal entry for that matter. Terry Ann a girlnexdoor creation made this tag for me. What artistic style she has for just beginning PSP. Dang, I wish I looked the the girl in that tag.
Now, I feel like a warrior lately but at least the war in JLand seems to have ceased. Thanks to Jackie, who is a total lady, a scrappy lady for sure, but a lady.
I've been at work everyday for two weeks straight. Someone once said that a habit is formed after three weeks so I figure after next week, this five day thingie will be resolved. Truthfully, it is getting much, much better. Of course, my journal and visits are suffering but I'm doing my best to visit everybody this weekend.
Now, on to my ex SIL's wedding last weekend that I wasn't invited to and now am glad I didn't. My ex has fallen totally off the wagon and almost ruined the darned thing. My two daughters had to put up with his ugliness plus Joey had a little bit. I'm so proud of all three of my children for bearing the brunt of his ugly behavior and not calling attention to it so it wasn't noticed by others. At least not the bride and groom.
I have some pictures. The were taken on Joey's Canon digital camera by others so didn't come out as well as if he had taken them.
Left to right....Becky, 25; Joey 23; Megan 20.
My kids and Baba, my ex MIL, who just adores them.
The wedding party. The groom's son was best man. I think he's cute but the pic is so out of focus...oh well....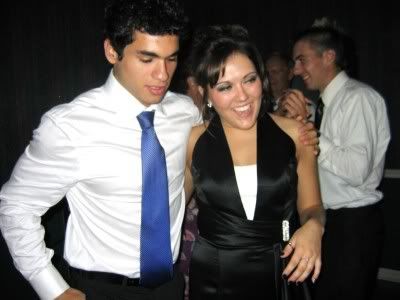 Megan and her date, Ortego. He's from Puerto Rico and is a soccer player at her university. LOL...of course, he is "in love" with Megan but she is one smart cookie who plays it "safe" with the guys for the most part and doesn't get romantically involved. Although, Ortego and Megan have been best friends since day one of her college experience. He is a doll baby, though.
So, not much whining from me today. Oh, and my BF doesn't have shingles again. He is an anal clean freak. He took the curtains out of my sunporch home to wash after my fly fiasco. The foolish man soaked them in Clorox in his sink and kept swishing them with his hand and arm up to his elbow. He had chemical burns. They did come out clean but I swear he never learns. He almost asphyxiated himself a couple of months ago mixing cleaning products.
I have some cleaning to do...some? Tons. Plus grocery shopping. We've had two of the loveliest days in western Pa. Sunny and close to 70. Wish it would stay this way.
Have a good weekend! If I miss visiting, send me snail mail and let me know because many links are in my favorites which is a total, total mess.
CHRIS