Ok, not the entry I intended today but I have seen so much discord and ruckus over the "awards" that I feel I must say a few words or, in my case, a few more.
I'm looking around here for someone popular as I have heard that "all" the committee members are popular. ROFL...surely, I wasn't being referred to.
Please read the ideology of the awards above. That was the intention of the awards. Not a Pullitzer Prize or a free trip to Disney World. It's called fun if you want to participate. If you don't want to, that's fine also. I have journal friends who don't like these awards and journal friends that do. I love them all and have no problem with their own expressions of opinions. I will still love them when the awards are all said and done.
J-Land is a community. It's like any community; some who like to participate in some things; some who don't. Since I've started my journal, there was "Trick or Treat" through J-Land and Christmas Caroling. Some loved it and participated. Some thought it was stupid and didn't, and some who were totally unaware that it was even going on. There were many who departed over the ads and then returned. Welcome back is what I say.
The VIVI Awards are no different. As far as the name...yes, they were named after Vivian but VIVI also means "life." I tend to think that people who hate the awards would hate them no matter what they are called.
The awards are going to continue. Some may love the fact; some may hate the fact. That's one's own personal prerogative; as it is also one's prerogative to state that fact. It is also an option to ignore and continue on with your journal and your life.
And now to address cheating and the polling. There will be no cheating. As far as the polling, we will try our very best but polling is polling. For heaven's sake, if our nation had controversy over a Presidential election and polling, how in the world does anyone expect that the polling will be 100% effective on free websites? Nonetheless, we will give it our very best shot to make it as accurate as can be expected. What do I expect...honestly, I have no clue but have been doing tons of homework on the polling sites.
The polling for the nominations will be put up in a week or two. No one is forcing anyone to vote or accept a nomination.
Jackie and I have both decided that we will not be in the running for any of the final awards although we appreciate all of those who have cared enough to take the time to enter our journals in various categories. Actually, we decided this from the get go.
To those that are cynical and angry, I'm sorry you feel that way but that is your right. To those that simply don't like this kind of thing, I am still going to continue on with it because I tend to look at it as a fun thing. Yep, I'll be one of the silly ones shopping online "buying" my Vera Wang, Jimmy Choo and lots of bling. In actuality, I couldn't even afford one Jimmy Choo shoe, let alone a pair but a girl can dream and have fun pretending. Life is not serious all the time.
When it's all said and done, both my journals will still be where they are right now. I'm going no where as long as I'm still alive and kicking. Maybe I'm just an old bat who's learned from the school of hard knocks but this old broad ain't crumbling; at least not over something as simple as "awards" for AOL journals. If some hate me afterwards, then I'll know who my true friends are....so be it.
Keep your candidates for nominations coming because there are still many who are having fun with this. For those that would like a better award system, JLand is all yours also...go for it.
CHEERS......CHRIS....one of the most popular persons in JLand...lol...NOT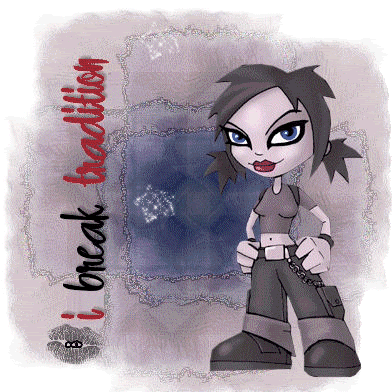 (Of course, you get stuck looking at one of my tags...mwuah!)