Sheesh, I have so many tags to pick from but it takes me forever to decide which one to use. I decided to use one of my own coz actually I sort of like it.
Reflections of the past couple of days: First of all, I feel really well finally. Work is starting to make some sort of sense. Just waiting to see how many rejects I get. We had an audit team from DC up here this week. We are the only Voc Rehab office nationwide to have no errors ever. The DC team noticed the harmony in the office. My boss prays before each hiring for the Lord to send him the right person. I must say it most definitely works and has to be the reason I love this new division so much. So, it's been a very good week there.
Joey is on his way to Ocean City, Md. Some problems arose with his car. He has this Flowmaster (loud) muffler system which was rusted out and wouldn't pass PA inspection. Living in a rural area, you can find mostly trustworthy mechanics and such who take great pride in their work. My BF took him to the muffler guy he uses. They thought they could quick fix some welding before he puts the car away when Megan leaves for school....not so. It was shot. It's 6 years old with a 5 year warranty. He wanted stainless to begin with but couldn't afford it.
I was dying inside when they called but said nothing. I was shocked that they would put a full stainless steel dual exhaust Megamaster system on for $400. I paid far more in December for my dual exhaust which is not even close to what he was having installed in quality. So, I told him put it on my charge card. My BF said the look on Joey's face was priceless....like the world was lifted off his shoulders.
His Mustang is a 1990 but is also a limited edition 7-up Mustang that was released for March Madness that year. 4,200 were made; 1,200 are only still registered nationwide. He has had Mustang collectors offer him 5-6 thousand dollars for it so I know restored it would be far more than that especially when it reaches the 20 yr mark.
Anyway, my BF was amazed that I was so self-less and agreed instantly to front the money. No question in my mind. That car is going to be garaged until Joey can restore it himself.
Megan is working; the house is quiet. I'm growing to love this.
I'm feeling so much better. The sinus medication has knocked everything else out that the antibiotic didn't.
I'm still waiting for UPS to deliver my part. Sears is scheduled to come on Tues so I may have to call tomorrow since it's being tracked to see where that darned part is but so far the AC is still plugging away.
I fell asleep early last night and was up at 4 this morning cleaning out my mailbox so I have my PSP stuff under control. LOL...I spent a good bit of time in the Paint Shop making things while I was sick so be forewarned. I hope I have hit all the journals I read.
I also wanted to add that Linda Sangria Times is one of my tag requesters and so sweet. I know Sugar posted her link. Her sister had a heart attack and died the other day unexpectedly. She could use lots of J-Land support and prayers.
Have a great evening and stay cool...still sweltering in western Pa. The storm they keep calling for hasn't hit yet.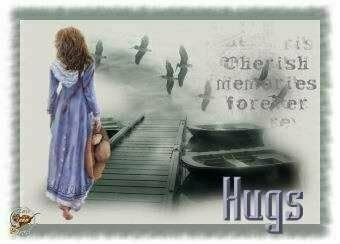 CHRIS