Today was just one of those days where I felt like I was, at best, tapping my foot in aggravation. I didn't realize it but it started last evening with my picking up my medication for high blood pressure.
I'm not sure about the UK but here in the states the pharmacies change generic drugs like tomorrow's clean underwear. I hate it because sometimes the new generic does not work as well as the last. Of course, I got a new generic last night and told myself this is all in my head.
Of course, I was lightheaded this morning after taking two doses of the new medicine. The nurse at work confirmed that my blood pressure was far too high for someone on meds. After a few phone calls to the pharmacy, I found out that the pharmaceutical co. quit manufacturing the medicine. Grr.....but they did have 100 left at the warehouse so I'm trading it in tomorrow and have to discuss this with the doc in the next three months.
I took my car to get the tires checked. This is my old car, by the way. I couldn't find the receipt for the life of me. Well, as it turns out I never took advantage of the free tire rotation. But...lol...good news, the rear ones are perfect and the front ones aren't that awful. I got a free rotation and got the oil changed but nothing is ever totally smooth. My radiator is gunked and needs to be flushed. Their machine was broken so now that has to be done soon.
I get home and my son says he could have told me that because the low coolant light has been going off and on even though it doesn't need antifreeze. Megan echoed this. Sheesh...why don't they say something? So, this is my next week's chore because I simply won't be able to get it done before Christmas.
I got home...finally...and saw Jeannette's two doggies wishing everyone a Merry Christmas. Of course, poor old Griz had to get an elf hat put on his head; very grudgingly and with a good many doggy treats to bribe him. Megan was very willing to help with the cause. (ROFL...I seem obsessed with turning my family and pets into elves.) Thank you, Jeannette, for the idea. It brought laughter back into the household once again.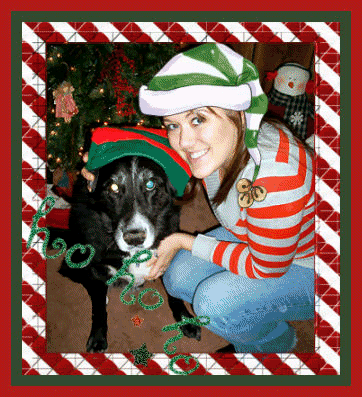 My poor old pooch has cataracts which is why his eyes glisten in most of the pictures taken. And I got some Christmas cards today; Jan/Serendipity; Penny/Bits and Pieces of Ohio; and one from Millie in the UK who sent me a card she had made from one of my tags. Thank you all! I promise next year I will get cards sent out to all my JLand friends.
One more day of work, and then the crunch begins. I must say I do well under last minute pressure; not that I have a whole lot to do. I have a couple of last minutes gifts to get and a few more gift bags. No wrapping for me anymore.
Chris (Thanks, LJ, again. I think this is one you sent me.)