I love this tag but didn't make it. I have no idea who did. It came through my PSP group so thanks to whoever created it.
I'm really trying to shake the "Bah Humbug" syndrome I've fallen into this year. I've always gone all out with decorating, etc. This year I'm just not motivated. I can't put my finger on the reason. I alway have at least one tree up by Thanksgiving. Well, I got rid of my artificial trees this past summer and have the one new one. I'm still so procrastinating about the familyroom and my carpet. I'm just not in the mood to go buy a live tree, drag it in and string lights on it. Tonight, I will see how the tree I bought after Christmas last year looks in here. The whole thing is I know I'm not going to like it. It was bought for my tiny livingroom. Sheesh, why can't I just make a decision this year?
Megan will find out the results on Monday. They got them Friday but the doctor wasn't in to read them. She doesn't start her break until Dec. 21st. I know she has to be pushing zero in the money department. I suppose finances are also weighing heavy on my mind as I just made my first car payment. Thanks to the good Lord for my bonus which will just cover the repairs to my old car plus the car insurance. I finally was able to take Joey's Mustang off insurance this week for the winter months, which will help some.
I am noticing that so many in JLand are struggling with health issues and have plates so full right now. My prayer lists just keeps growing but the comforting thing to know is that the Lord does answer prayers.
I'm hoping to go to church with Becky tomorrow. I would love to have Megan go and then take the girls out for lunch. That just might revive my motor and lift my spirits.
Boy, this is turning into a downer entry; not what I intended. I'm sure once I get some of my decorations out and up I'll start to feel the spirit move me.
I've had some more duties added at work...an answer to my prayers as I was starting to have to pace things. I hate not having tons of work to do. The day goes so much faster when I have priorities to set. It motivates me to be there everyday because I don't want to get behind. If I can keep up too easily then it's far too easy to be tempted to blow off a day. Weird, but that's me. And, whoo hoo, I'm able to take off the day after Christmas. I absolutely love my division chief and Rose, who does the same thing I do and trained me so well. Yes, I am super duper thankful for my new position.
So, my JLand friends, I am just tired today. I'm behind again on what alerts I have gotten and behind on visiting. I will be around to visit this evening. And just maybe there will be a tree in my familyroom.....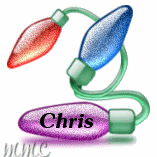 Thanks to Missie, Missie's Magical Creations, for the adorable siggy!