Merry Christmas! I did stay home last night; well, not exactly...my BF picked me up. We had a nice quiet night with each other.
Today it was off to my mother's. I took pictures. My memory card was full. I didn't realize it because I was still able to take pictures. They wouldn't download so I deleted some and that did the trick. Now, I sort of wish they hadn't. Sheesh, I have gotten f-a-t. I know what one of my New Year's resolutions will definitely be. Joey and I are planning to quit smoking for the New Year. I sure hope I don't gain any more weight :(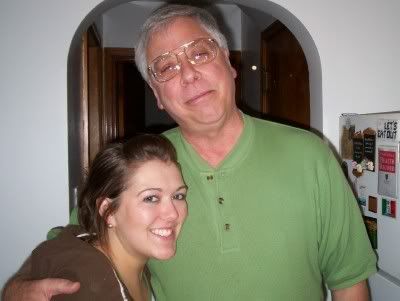 My brother and Megan. I'll be nice because it's Christmas.
Joey and the Bah Humbug shirt.
Becky, Megan, my SIL, who Joey says took my cute little stuffed snowmen ornament the kids got me and stuffed it in her bag. LOL...I'll give her the benefit of the doubt because she also got one so maybe I'll get it back on New Year's Day. Something smells fishy, though.
My mom, who is soon turning 88 and sharp as a tack. I took her by surprise with this one.
And...moi...I hate pictures of myself...totally...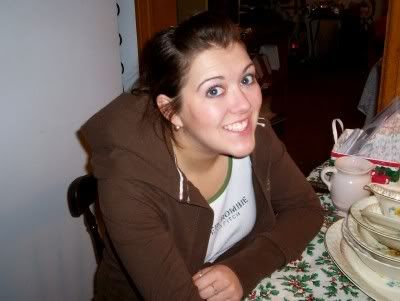 Megan being cheesy. She is always willing to have her picture taken. Dang, I would be also. She is so photogenic.
ROFL...this is the picture that is going to force me to send myself to fat camp. Megan said my outfit looks like a pirate outfit. She was also supposed to be posing me so that my triple chin and jowls were disguised...
I'm getting up early tomorrow and actually going Christmas shopping. Yep, you heard it correctly! I was so short on funds before Christmas. God Bless my mom as she was super duper duper generous this year. I plan to go and get the kids a few things tomorrow that I just couldn't cut before Christmas. I also should be able to pay off most of Grizzly's surgery with it.
I forgot my coat at my mom's. Now, how in the world I did that I'll never know but I only have a raincoat here with a thin lining. I may just buy another one on sale tomorrow. My mom lives 45 minutes from here and it's getting cold again by the time I go back to work on Wednesday.
All in all, it was a wonderful day today for the most part. My SIL loved the wooden Santa I got her half price after Christmas last year. Cracks me up because I always buy her stuff after Christmas. Now, I'm hoping she didn't pilfer my little snow guys. I might just have to "lift" them at Thanksgiving next year.
My kids bought me two Dreamsicles again which I collect. Becky got me a neat pewter angel and some Christmas decorations and a couple of snowmen. None of them have any money. I really didn't want them to waste it on me but they did anyway.
I'd take more pictures but I'm still hating mycamera. I should have asked my BF for a better one last year but didn't know squat about digital cameras and still don't know much more.
Another Christmas is almost over with. This one was a hard one to get into this year. I hate not to cherish each day because life is so fleeting. I hope each and every one of you were able to find some peace and joy today!
Chris