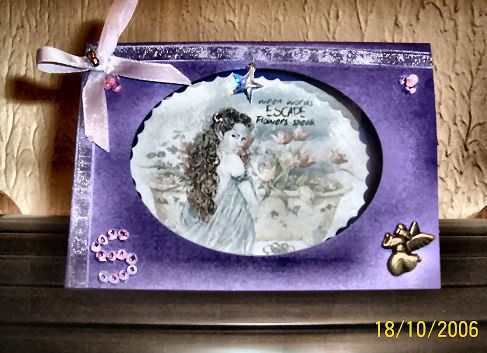 I've been meaning to share this with you. As you can see, the picture was taken in October and sent to me soon after. It came in an e-mail from Millie Millie'sMessings. She was very worried because she makes her own cards, and she had used one of my tags for it. Honestly, I was quite touched that she had used a tag of mine and made such a beautiful creation. Isn't it lovely?
Now, just a small comment about the tagging controversy going on. Everybody who has a tag journal sets up certain rules, restrictions, whatever. Some are stricter than others. That is each person's right who makes graphics to do so. Really, those who snag should respect the personal preferences of the creator. They are putting much time and effort into creating things, the least that should be done is to follow their rules. I, myself, don't particularly care for setting rules and regulations with my tags. I make them to be used and for fun. LOL...ok, the resizing. Yes, some resize them far better than others but really I and most others know what my tag looked like originally. So, some may butcher it. JMO, I make tags for the fun and pleasure of others. Life is too short to get myself in an uproar over something that I created from the work of the talented artists who actually make the tubes we use. All we who make tags do is use artists' work and put it together.
Nuff of that....I found out on Friday that my division was #1 in the country and was getting a pretty good sized bonus from our central office for it. Naturally, I was only there for three months of the fiscal year so I was expecting it to be pro-rated. Nope, I'm getting the full amount. I was stunned and blessed...totally. So, I had plans of what to do with the money; like maybe some neat gifts this year. Well, Murphy's law applies to me always. Joey took the Oldsmobile to get a hose replaced in the coolant system. That's where the tranny fluid was leaking from. $52 :) I was doing a happy dance until the next phone call came from Joey. LOL...my whole brakeline is rusted out totally and has to be replaced :( So, there goes probably most of my bonus because the line is rusted into the calipers. Joey is taking it Tues and helping at the old place he worked at which will save a tiny bit on labor.
My plumbing cost a total of $20 to fix. It was a couple of washers that needed replaced on the whatevers going into the tub plus the labor for Randy to shop vac and clean most of the drain out for me.
I'm still on pins and needles with Megan. She should find out the biopsy results on Tues although I sort of know the answers already. I can't thank you enough for your continued prayers.
I haven't been to the basement since last night. I would like to shut the door and never go down there again. OCD but it's something I need to get over. The basement needs a serious clean up. I think I need to enlist the BF with this issue. I've unloaded so much out of there but I really need to just get rid of way more.
So, I'm off to pay my Target bill, grocery shop; yuck, and buy some storage containers so I can get my summer clothes out of the cellar. No more storing my clothes down there now. I'm using my old bedroom as a huge walk-in closet for now.
Have a blessed Sunday!
CHRIS