Thank you, Terry Ann a girlnexdoor creation for the tag. Yep, my tornado is coming home tonight. Joey just left to pick Megan up. Life will just be one storm after another or maybe just a few. I just never know. We will be shuffling cars again. Lord have mercy but I don't want her driving the new one.
Joey said I need new tires on the old car. Grrr...they are BF Goodrich Control Plus and weren't cheap. I got them last summer so on Saturday I have to go and complain about them. There's only about 20,000 miles on them and they are generally just wearing out. Sounds like I may need to take my BF as he "smoozes" with they guys at the tire place all the time.
LOL...you get to be bored by a bigger, better picture of my Christmas tree. I spent two days super cleaning the diningroom and found my book for my camera. I suppose it pays to read about the settings. No shopping today for me as I really want this house organized. I still had things from the closet in my family room shoved in a corner of the diningroom. No more. I threw three more bags of stuff out for the trash today.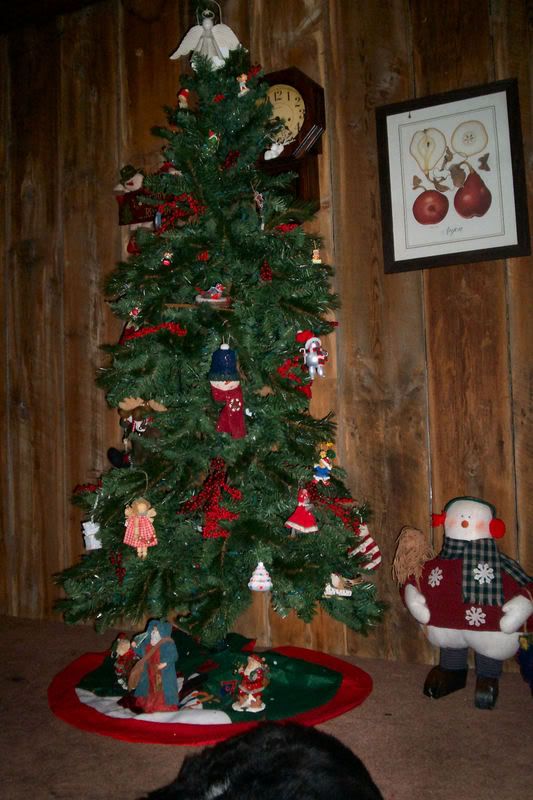 So this is my pre-lit, skinny, Martha Stewart tree with white lights. It's sort of growing on me, especially the part with no needles dropping. Maybe I can adjust to these new-fangled artificial things. I pine sol'd the basement today. ROFL...there's that pine smell for Ms. Megan. My prediction for her first words when she sees the tree are "Ewwww." I'll let you know if I'm right but I think I will be.
Two more days of work. I wish I had taken the rest of the week off but the phone has been ringing off the hook there, and it's only ringing right now in my area. I'm just so impatient because I think of all the things I could be doing at home.
I have a new journal I'm reading. I met her through my graphics journal. Indigo is Cherokee and became deaf later in life. She has a gentle spirit and has just acquired Pickles, a hearing dog for the deaf. If you have a minute, stop by and welcome her to JLand. Clicky----> Raven's Lament And that is a day in my life in a nutshell. Pushing into full gear for last minute preparations, which is the way I seem to work best.
Blessings to all and big hugs and smiles :)
Chris (Thanks, LJ for the dancing elf!)