It seems that many Valentine plans went awry today because of the unpredictable weather. I really didn't have any plans for today as it was supposed to be a work day. My BF is not a huge fan of commercial holidays. He prefers to surprise me at any time during the year and does. Actually, he was going to cook dinner for me. I would get off the bus and drive over to his house. He does this once a week anyway. He'll call me on the bus out of nowhere and invite me for dinner and cooks very well. He was going to surprise me today...lol...but told me last night that it just wouldn't be possible because of the weather.
The roads are getting a bit better around here but still not the best.
Pittsburgh was pretty much closed down today....the buildings, all schools, colleges, malls, etc. My building finally closed at 8 this morning although I had no intentions of going nor could I have even gotten out of the house. We ended up with about a foot of snow. An ice storm moved through last night and dumped 2 inches of ice on top of all of the snow. We literally could not open our doors in the house this morning. They were frozen shut. Joey got the back door open, which we use all the time, and got the inches of ice off of both cars. He got stuck in the driveway again but managed to shovel more out. He had problems with the upper end because the neighbors hadn't cleaned it. The one was out with his snow blower this afternoon. It looks like I'll be back to work tomorrow but it will be Thursday already. My BF and I will do something this weekend.
I hope everyone is safe and warm. Most of all, I hope that we all continue daily to shower our family and friends with love and affection and make every day Valentine's Day.
This picture is my front storm door taken from the inside looking out. We could hear ice pelting most of the night. It's still frozen shut and looks to have about an inch of ice left on it. You can barely see out of it but what a mess! LOL...what a boring entry for today...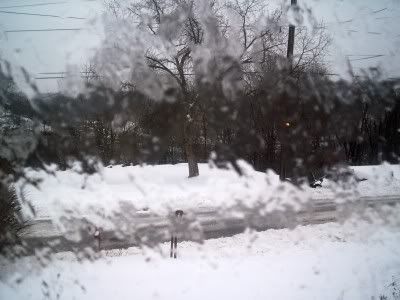 Chris