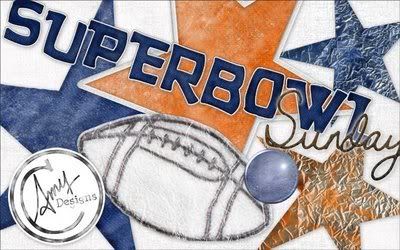 Today in the USA is SuperBowl Sunday...the biggest advertisers' dream because of the amount of viewers worldwide. The commericals are almost as popular as the game itself and are well kept secrets. Not that I'm a huge football fan except for the Steelers..uh hum...who screwed up this year but last year, what can I say?? Yay!
This year it will be the Chicago Bears and Indianopolis Colts. I'm looking forward to this game for some reason. Well, I asked in my graphics journal who everybody was rooting for this year. And some asked who I was rooting for as I didn't say. Ok...the Colts but I'm really not caring all that much because it's not the Steelers. Oh wait...there is a Steeler connection to the Colts which is why I'm leaning that way. Tony Dunge, the coach of the Colts, was a Pittsburgh Steeler many moons ago. Love Tony Dunge....he was a class act football player and a class act coach. He's been to the Superbowl but never got the ring. I would love to see him get it this year. Last year, I think the suicide of his son did his chances in. So, for those reasons, I am rooting for the Colts. I think the Bears will win, though.
So, the frigid weather here is still gripping western Pa. Single digits again today but not gusting wind. Yesterday was awful. The wind was so strong, it actually looked like it was snowing. We have about 6 inches on the ground right now. The sun is out and bright today but still bone chilling. Grizzly got his butt out the door on me when I was bring groceries in. I hate it. I worry that he will get hit by a car but I let him go today. LOL...confused the dickens out of him when I shut the door. He came flying home and scratched to get in. Hmmmm...maybe that's my new plan of attack to get him when he's loose.
Back to the chill.....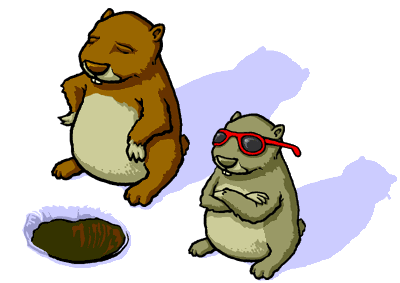 I live about 60 miles south of where the old groundhog, Phil, lives here in Pa. I can't remember if he saw his shadow or not but I know whatever it was, Phil says an early spring...yeah right. I would have believed it two weeks ago but not now. Lisa Jo sent me this graphic. I howled and had to use it. Thanks, LJ!
Today is lasagna day for dinner...easy to make and can sit until the boys decide to eat in front of the tv. I'm putting Italian sausage in it along with ground meat. I tried that a while ago, and the sausage gave it an extra kick. I'm also adding some different cheeses along with mozzarella.
I'm off to get some dishes done so I can dirty some more when I make the lasagna...never ending, along with laundry. To those in the deep freeze, stay warm. To those in warmer areas....nanny nanny boo boo...think of us folks who are freezing our buns off.
Love you all!
Thanks, Missie! Remember this tag you made me? LOL...I'm still putting on my Steeler gear..hehe