The first big blizzard of the year has struck. Snow is falling about 2 inches an hour. Yesterday, it was 40 and rather balmy. Most of the previous snow had melted.
Around 1 this afternoon, Joey and I decided to go to the local Mexican restaurant and the store since they are close and on top of the hill so it's all pretty level to get there. LOL...my car got totally stuck in the driveway and didn't even make it to the lane or alley, as I call it. I was flipping out because it sounded like my good car was going to blow up.
We finally got it out, ate (I forgot the dang doggy bag at the restaurant...grrr....and went to the store.) I had to buy Morton salt pellets that are meant for well water to get traction after the shoveling is done.
Of course, I had to take some pics: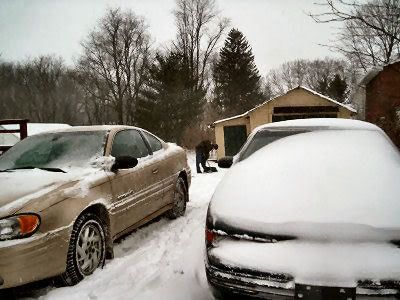 LOL...That is my ancient "lean to" garage in the rear.
My neighbor's garage is behind me. They don't use it because they get totally stuck in the snow.
Wonder who is really shoveling???
This is the rear of my humble abode. Our property extends 1/2 an acre behind me beyond the garage. There is about a foot of snow because the pool deck is close to two feet above the ground.
A side view....there is a purple bucket that we wash the cars with almost buried by the deck. Haven't gotten the walkway or deck done except to get in the door.
I took a vacation day today. Glad I did because it will be a nightmare for those having to get home. I called Rose at work at 2, and they still hadn't closed the building. I may be off tomorrow. I have the vacation time and don't intend to risk life and limb; that's if we can even get out of the driveway area tomorrow.
So, how are my other JLand buddies in the eastern USA doing with the snow?????
CHRIS