Aw, the memories....
And reality.....
Summer dreams...........
Reality....there is a pool somewhere under there....
It was -10 when I left for work this morning. After I was frozen solid, the bus failed to show up. I came back home and did nothing but try to keep warm. The high did get a couple of degrees above zero.
I did watch The View and was a bit irate. They were discussing Texas mandating that all 6th grade girls get the HPV vaccine. Now, I'm not saying that I believe all 11 and 12 year old females should be forced to be vaccinated but I was quite shocked at how uninformed these ladies were. I was ready to jump through the tv. Since Megan was diagnosed, 3 more of her friends at college have been diagnosed and going through the various treatments Megan did; some haven't been as lucky with their biopsies. I wonder how Elizabeth or Rosie will feel if they receive a hysterical phone call from their daughters a few years from now like I did. Truthfully, until Oct. 31, HPV was just an acronym to me. And now it's too late for Megan to be vaccinated. And truth be told, Megan was one of the very few virgins in her graduating class. This is the reality of life today sadly. As for the vaccinating, I would have done it if I could have.
I e-mailed Sugar yesterday. She is very ill. Her antibiotics have not helped her pneumonia. The doctor would like to hospitalize her but she has no one to keep her "girls" for her so won't go. I just feel so helpless. Do keep Sugar in your prayers.
Shelly has another quilt going. ---> New Quilt!! Valentine's Messages! Go and check it out and request a square. Mine is in my sidebar now.
Hope all in frigid temps are keeping warm. I think this is supposed to break here on Wednesday...a balmy 20 with lows above zero. Boy, I can hardly wait to see my gas bill next month. The furnace is on non-stop.
HUGS & LOVE!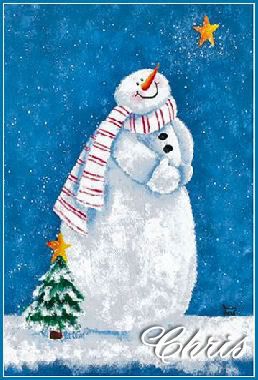 Thanks, LJ, for the snowguy!