What a day! Grizzly had his surgery. I was so nervous about the whole thing anyway since he's such an old pooch. (Thanks Terry Ann for the tag!)
His bacterial infection had spread from 2 teeth to 5 in 10 days and partially down his throat. He had to have the abscesses drained and cleaned out.
He is a lab mix. They tend to suffer from separation anxiety. Grizzly gets worse as he gets older. After surgery, he tried to escape from the kennel and tore out two claws and tore his face up. They called me to see if I would pick him up early since he was super stressed. They were afraid he would hurt himself further.
It is so hard to see the poor thing in such pain. He is drinking water but won't look at food. I had to open his mouth gently and put a pain pill as far back as I could. Thankfully, he swallowed it and is resting a bit. I couldn't stand hearing his moaning from the pain. If he doesn't start to eat tomorrow, I have to let the vet know. They called this evening.
I want to thank Sugar for mentioning Griz in her Furr Baby journal and to those of you who have sent your support in e-mail and comments. Boy, these pets are like our kids; only they can't tell us what hurts.
I promise I will get around to reading journals again soon. I did a few today while I was cleaning and waiting to hear how Grizzly was doing. After Joey and I picked him up at 2, my day was done.
I am so exhausted and still have to look forward to moving at the office tomorrow. Plus, my DISH is being installed Saturday afternoon. Oh goodness, I didn't get the house nearly as clean as I wanted. And the Vivi nominations....please be patient and kind. Jackie has been working her butt off. I've been helping as best as I could. I made an error on the animation nominations. It's been corrected, and in retrospect I should have picked up on the error on Sunday when she sent me the list. If you notice an error, please let one of us know but do it nicely (I know those reading my journal would do so).
Thank you all for your kind thoughts. Keep my Grizzly in your prayers.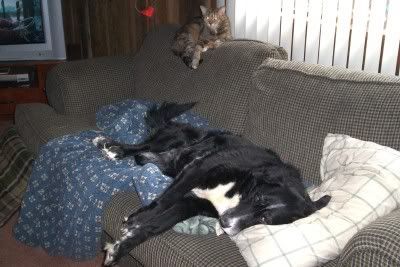 ROFL..this was taken thispast summer. I'm laughing because he looks like he's ill...nope, just being lazy and laying on the sofa with his pillow and favorite blankie.
CHRIS