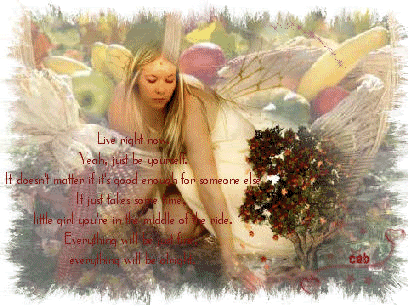 As I was journal surfing this morning, I visited D's This and that, and hockey! and was intrigued by her entry which was inspired by Bea Wanderer. I snagged a tag from D which I waivered as to which to use at the top. Of course, I love D's far better than my own but the words on the top one fit the first part of my entry (lol..if you can read the bottom part). One defining turning point in our lives. I pondered this for quite a while.
Of course, my children were an enormous turning point but not exactly what came to mind almost immediately.
I was always passive; lived in fear of change. Marrying and starting a family was huge for me. I wavered in and out of depression and anxiety. By the time Megan was born, I was well on the road to recovery from this. What I was not on the road to recovery yet was my dependence on staying in my house and living the life of a victim of domestic abuse; not to mention verbal abuse of my children. I lacked the courage to forge on my own. The financial aspect scared me to death. How would I live?
Turning 40....wow, should have been traumatic but was the beginning of the butterfly spreading it wings. Hence, the tag at the top. I was in the middle of my life (I hope, anyway). I weighed 212 lbs at that time. My ex tormented me to death about that with ugly words and tearing the house to pieces due to his alcohlism. Age 40 again, I slowly shed 60 lbs. With each pound I lost, I became empowered against the "little man" who terrorized my life. It bothered him so much that the abuse got worse.
My defining moment should have been a moment of terror....he put a knife to my neck one evening for spilling crumbs in the drawer. Little did I realize at that moment, my life would change drastically by that one motion. FREEDOM......I got a PFA and had him out of the house the next day; something I had tried to do for years but he wouldn't leave of his own accord.
How do you even begin to imagine the quiet that enveloped our house? It was totally odd and unnerving for a few weeks but wonderful. The kids and I still jumped for a while when we made noise as we expected the hand to come flying or some object.
My court experience was smooth and the child support was enormous for a year because of his foolishness.
I look back at who Chris was before that incident; certainly not recognizable to the Chris today. My dear father has already passed away so Chris was on her own, basically.
Yep, money has been terribly short for many years. Many years my children did without the conventional Christmas with tons of gifts but there was tons of love flowing. We learned to laugh together without fear. Fear is a terrible thing to live with and be surrounded with. My children learned the value of a dollar. We didn't have "grandpa" to go crying to for the things we wanted but didn't necessarily need. We learned to grocery shop and buy what we needed which is far different than what we wanted. There were and are still times when the trash bags, etc. go on hold until payday. Please don't think I'm asking for pity...no way. Child support ended two years ago. So be it. I was spoiled by my dad as a child and a young adult. I learned that life holds far more than material things. Yay, I'm in the middle and gonna be fine.
I stand proud and tall. I have three beautiful children who are excelling despite the hell they were raised in. I removed the pic of my ex from this journal as it was inappropriate. His life is his own choice. I have no need to think of him or see him. The kids are adults now and can do as they please as far as their father is concerned.
So below is the gorgeous tag from D that I snagged. My candle will shine ever so bright so the next generations will live lives far different than the life they grew up in and carry the candle that was lit for them by their mother's example. (Thanks, D!)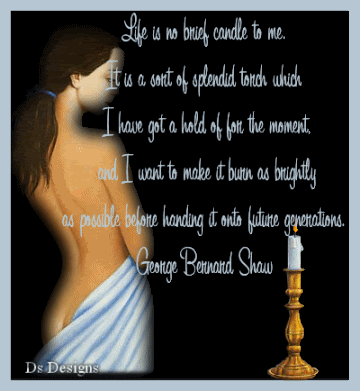 CHRIS